Can you talk about some of the artists that you felt best emulated NJS?

BMC: Teddy Riley of course, Al B. Sure! definitely. I don't think he gets the credit he deserves. And his cousin Kyle West. Kyle West was the guy who literally played the keyboards – Al could play and program and I think Al was a pretty good drummer too, and Al is a great arranger, but he and Kyle West together – they brought a cinematic sense to NJS. So Al B. Sure, Kyle West. I would say R. Kelly. His big jumpoff came with the first Public Announcements album, and R. Kelly admits that Teddy Riley influenced him – he was always musical and talented but he didn't know how to make that entry, he didn't know where his lane was in the music business. After he heard Guy, he said he knew where he wanted to go, so I would say R. Kelly.
There's so many people. Even though they weren't NJS per se, I would include LA & Babyface because the music they created for Bobby Brown on that Don't Be Cruel album, was amazing. I know Teddy Riley did "My Prerogative," but a lot of that stuff on there was the work and creation of LA & Babyface. Keith Sweat absolutely. Keith Sweat was the voice of New Jack Swing. In addition to Aaron Hall, Keith Sweat was the first voice that we heard in terms of bringing New Jack Swing to the forefront.
Heavy D in terms of incorporating NJS and creating the really powerful elements of his career with what Teddy Riley did with "Mr. Big Stuff." And Heavy D is a great rapper. People don't give him his props either. But this guy is a great rapper, lyricist, and performer, so he's one of them. Absolutely I would have to say, Kool Moe Dee – because KMD really cemented for all intents and purposes, that NJS was the new soundtrack, for however long it lasted, for that phase of hip-hop. Because I think that's why he and LL got into all those battles. But by the time Kool had hooked up with Teddy Riley and did "Wild Wild West" and "How You Like Me Now?" and "Go See The Doctor," it was over. That was a wrap.
As a matter of fact, KMD's imprint on the music was so powerful, by the time LL got to Mama Said Knock You Out, he had to go and get Marley Marl who was the other guy I was gonna say. Marley Marl was a great influence and purveyor of NJS also, and not that I think he started off to do that, he was just doing a very melodic form of hip-hop with his samples but by the time Teddy came.
I would say Teddy for a good five, six, maybe seven years, ran the music business and was the arbiter of taste with an iron fist with his music. When Teddy came out with a piece there was no turning back. So, those are a few of the people.
I would say Levert, with Just Coolin and stuff like that – their mid-western take on NJS got the rest of the country into it. There's a few people…I would have to think. Definitely Johnny Kemp. Johnny Kemp with "Just Got Paid," before Teddy and Guy really hit – he gave it a pop representation. That stuff was all over the radio and video, his voice was suited to it, it was light, it was fluffy, but it was immediately likeable also.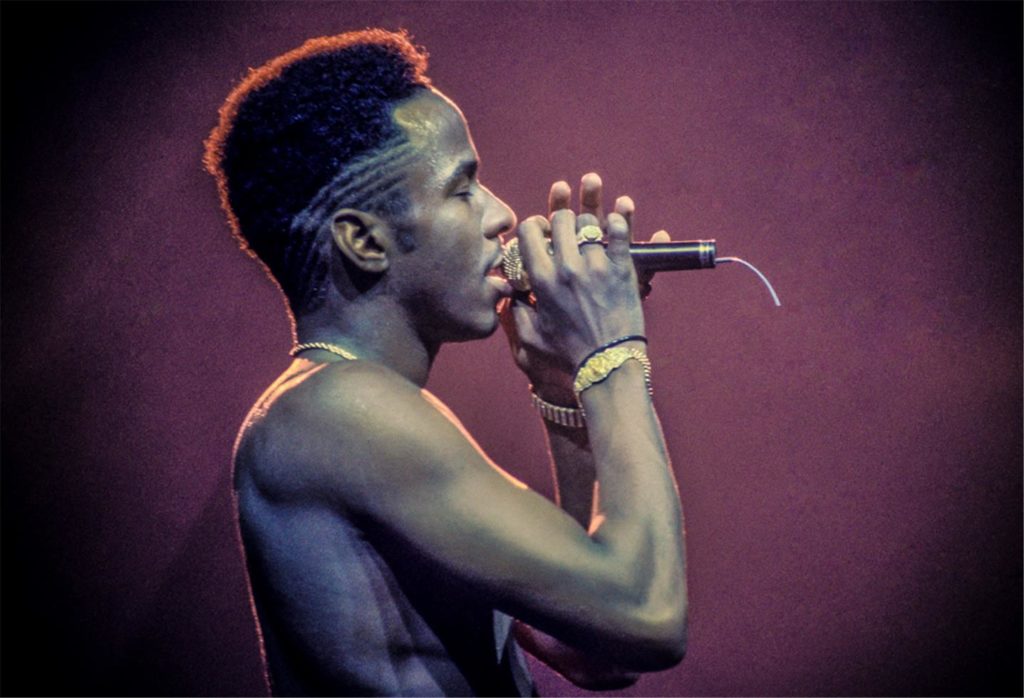 Who else? … Bobby Brown. How could I forget this guy?

Bobby Brown was the heart and soul of it. Bobby Brown gave it – along with what Teddy Riley was doing, Bobby Brown gave it its motor, its heart. By the time Don't Be Cruel had done 8, 9 million copies, that and the movie New Jack City made NJS THE music of its age. That was it. Bobby Brown and his performances – he was selling out arenas in an hour. And by the time he did "My Prerogative," – I saw him in Chicago on the Heart Break tour – by the time he got to "My Prerogative" it would be ridiculous. You couldn't even hear the song at that point. It was really crazy.
I remember doing a piece on him for Spin Magazine, and I went around with him and we were at George's Music Room – it was actually Regina Daniels' husband – George and Regina Daniels are the defacto managers of R. Kelly. He had a place called George's Music Room somewhere on the South Side of Chicago. Bobby was there to sign autographs. They had about 10 cops out in front of this place. And in less than 20 minutes, and I'm not exaggerating, about 800 fans showed up. It scared me. It was frightening, because I was in the limo with Bobby and they started rocking the limo. The cops had to pull these girls off the car. It was really scary man. This guy was the Rolling Stones, he was The Beatles, he was, all of that wrapped up into one performer and he exemplified NJS like nobody else.
Teddy Riley and Guy definitely. But Bobby gave it a face, he gave it a heart, and he gave it that "umph" that was just crazy. He was like Elvis. He really was. That's who I can compare him too. He was the Rolling Stones, he was The Beatles, he was Elvis all wrapped up into one. And he made New Jack Swing what it was at that time. You didn't think about no other music. Hip-hop had to look to NJS. Pop had to look to NJS. R&B definitely had to look to NJS. Because of Bobby Brown. It was nuts man. So those were the people that I considered best represented NJS.
There were a lot more…I would even say Denzil Foster and Thomas McElroy – they definitely exemplified that West Coast NJS with Samuelle, "So You Like What You See," and I loved that song, that's straight up New Jack Swing. And all the stuff that En Vogue did? That's NJS, man. Timex Social Club – west coast NJS, Tony Toni Tone. So those are some of the groups.
And then later on, The Neptunes. By the time we got to "Rump Shaker," and the stuff they did for SWV, it really spoke to and was the foundation of the great production they're doing now.
Andre Harrell likened both Teddy and Al B. Sure! to a great songwriter and producer for Michael Jackson named Rod Temperton, who started out with a group called Heatwave. He's a white guy from I think somewhere in London. But his understanding of R&B as pop music gave it a whole new set of legs and a whole new lifeblood, and I think that's what both Teddy and Al B. Sure did for R&B. They made it relevant to the hip-hop audience.
There are a lot more artists I'd like to mention, but I would have to think a little bit longer, but those are some of the people who exemplified NJS.

NJS4E: Some notable omissions that I recognized, you did mention the tour (Heart Break), but not the group – so would you say Bobby Brown completely eclipsed New Edition? Did they have a role to play in this whole story?
You know what? I'm glad you said that. I think he did, but not by much because when that album was done and finished, Jam & Lewis brought it to Jheryl Busby but he said, "take it back, and bring me the Teddy Riley sound." So, when they came back with that rebuilt Heart Break album, it was nuts. It was really nuts. And it kind of caught up with Bobby, but Bobby by that time was so far gone, it was crazy. But they weren't in the dust or anything like that.
And I would also say, now that we're talking about it, I would also say, Boyz II Men. And that was the "Alex Vanderpool Era," that first Boyz II Men album had NJS all over it because Mike Bivins knew what Teddy was doing. And he knew he had to give this group a great head start by giving them that NJS sound. So I would say Boyz II Men too, and also New Edition had that NJS sound too, they helped exemplify it.
NJS4E: How would you describe NJS's middle passage between 1992 to 1998…how did it live on? Was it through New York Undercover? Was it through Uptown? Through Jodeci? I'd love to hear it from someone of your magnitude since you named the genre. Can describe to us how it has morphed throughout the '90s?
Andre and I have this debate. He says it was renamed "Hip-Hop/Soul." To me, Hip Hop/Soul was nothing but NJS, I'm sorry. The morph happened with Jodeci. The morph happened with New York Undercover. Even Mtume's theme song is NJS with the horns and the swingbeat, that's Teddy Riley. So it lived on through that. What helped the music live on was not just the music, it was the lifestyle of dressing well. Of looking a certain way. Of presenting yourself a certain kind of way.
Editor's Note: By 1997, grimy production was out, and crisp sounds were in, thanks to Bad Boy's "Hitmen." While Bad Boy's image matched the sound in the late '90s, by 1998, Def Jam/Ruff Ryders adapted the sound, but left the "shiny suit" look behind, thanks to DMX and Swizz Beats (above middle), who also produced much of Jay-Z's late '90s hits. This production quality has roots in Teddy Riley's original style.

If you remember, DMX was anything but 'bling' – he was grimy, not Puffy's – shiny suit thing. He was baggy pants, Timberlands, – he wore gold chains, but his image was definitely "thug." That's the image that he wanted to portray. But what's interesting is that a lot of Swizz Beats' production reminded me of Teddy Riley. That's how it lived on. It lived on through people like Swizz Beats, Dame Grease, and Timbaland. It became more complex, especially with Timbaland.
From what I've read about Timbaland, Chad and Pharrell, – Timbaland more from Devante – but all three of them are from Virginia Beach, and they came through Teddy's Future Studios, so they learned a lot from him I'm sure. NJS morphed on through their music.
In summation, NJS morphed through the lifestyle, the elegance, and the music of people like Swizz Beats, Dame Grease, and Irv Gotti, and I don't care what they call it – they can call it Hip-Hop/Soul or whatever, but all of it came through Puffy. Puffy was the extension of Teddy Riley in a lot of ways. A lot of the music that he created for Biggie and his artists like the Lox and Faith, and especially himself, was the extension of what Teddy Riley was doing – that Harlem-based Swing music. It lived on through that.
NJS4E: Here's a question I've always wanted to ask. I'd love to hear your take on it – particularly because of the behind the scenes nature of your experience. It's about "career longevity." We talked about Bobby Brown being like Elvis or the Rolling Stones – just hyper phenomenal, but his brightest star probably lasted a good two years – the '88/'89 corridor with five consecutive top ten singles back to back. Then you have a guy like Usher who started in 1994, really blew up in 1997, and in 2003 sells 1.1 million albums in one week. I'm finding a lot of the careers are lasting longer from these post-New Jack Era artists like a Missy, Usher, Jay-Z or a Puffy, whereas with a lot of the New Jack artists like an Al B. Sure, Bobby Brown, etc – you saw more of a four-year "hit record" career lifespan.

Is that something you would agree with, and if so, what would you attribute that to?
BMC: I would absolutely agree with it, and that's a great question.
When Teddy, and Al B. Sure and Bobby got into it, it was uncharted territory. Totally, uncharted territory. Because of the fact there were no predecessors to that point. Their careers were used as guinea pigs.
I'm not excusing 'excess' on Bobby's part, but he's a nice person, I've met him before. I can speak from my own experience on this one: how you handle what's given to you really depends on how you look at it. Is it a sprint? Or is it a marathon? Because when you're in the thick of it man, and when it's all coming at you, and when it's all going on and everybody is kissing up to you and you're the 'greatest this, that and the other', that's cool – but when the music stops and they're all gone, how do you handle that?
So the Ushers, the Neptunes, the Missys, the Timbalands, they were really blessed to have these careers to look at and say this is what I'm not gonna do, this is how I'm not gonna approach it. They were afforded the luxury of their predecessors making mistakes or miscalculations or missteps or however you wanna term it, before they were able to really able to do it themselves. That creates career longevity.
And I'm sure that if you look at it, the only thing as hot as Bobby Brown prior to that point was Michael Jackson, and prior to Michael Jackson it was James Brown. But you have some major gaps – and I would say Prince too – but then it's a different take altogether even with their immediate predecessors.
People had more of a vested interest in a Michael or Prince because their appeal was very androgynous – it was non-threatening. It was David Bowie-ish, and that was a great career move because at the time you have to look at the racial context of it also. Say a Bobby Brown had come around during the time Prince and Michael blew up, I don't think he would have been that successful. Bobby Brown was extremely Black, extremely macho, and extremely street. And that Reagan Era was not trying to hear that at that time. That wasn't gonna work then. When Bobby came around, there was a lot of dissatisfaction and disillusionment with that whole Reaganomics era and people were looking for a change.
Everything happens at the right time. There's no moment out of time that is ill-concieved. What may be ill-conceived to us in a larger picture, and I'm trying to get too outer space on you, but there is a context to everything. So, when Bobby came along, it was like, maybe 4 to 6 years removed from Michael Jackson and Prince blowing up with Purple Rain and Thriller and I don't think he expected it to happen like that, so it was like, "this is never gonna stop," and I don't know if he took the time to look at it long range like a marathon. Maybe he did, but I'm not really sure I know the answer to that.
But the one answer that I can see looking at both sides of the business, is that with artists like Missy, Timbaland, Ginuwine, and Playa – who's one album I think is one of the best R&B album's I've heard in the last 10 years, period – they had the luxury of watching Devante as a part of Da Bassment and saying, "when we get our foothold, we gotta handle this a bit differently if we want this to be a marathon and not a sprint."
And they had that luxury.

I think Jodeci is a rare exception because when I think when they drop their new album, they're gonna get a whole new set of fans, and that has a lot to do with – and when Bobby drops his album, because of that reality show and all of that stuff that had nothing to do with music, and everything that has to do with his personal life between he and Whitney, he's gonna have a big album. He can still perform man, he's one of the greatest dancers of all time, and a great singer.
I remember Arsenio Hall telling me one time, I worked with Arsenio Hall maybe about 10 years ago, and he told me one of Luther Vandross' favorite singers was Bobby Brown because he had the essence of that old-school, soul man Wilson Pickett, type of thing going on. So maybe all of what he's going through is going to lead up to a great, great album.
But that's a great question you ask – these people, these new jacks for all intents and purposes, the Ushers, and the Pharrells, and the Chads, and the Jay-Z's have been able to be very aware of the pitfalls that have happened before to other people and they didn't step into the same potholes.
NJS4E: And finally – what role do you think Arsenio played in this whole era?
It's weird that you would ask that. I did one of the first interviews with him. And I called him the "New Jack, Chit-Chat" host. Arsenio Hall's whole show was New Jack Swing. The theme song, that was New Jack. I think he had Teddy on there twice. His hair style – the gumby, cameo fade, the clothes, the elegance, it was like Johnny Carson/Dick Cavett meets NJS. Whether he was aware of it or not, and I think he was, New Jack for him wasn't just the music – it was the mindset of being new, and young, and black, and ambitious, and smart in the late '80s.
There's so many things that happened Andrew, during the late '80s and early '90s that took that music to another level – it couldn't have been just the music to make it as popular as it is now. It was the lifestyle, it was the culture, it was the politics, it was all those things. And that really was the embryonic stages of it. Now it's like, not even a toddler, it is more like a pre-teen now with the parties that you guys are throwing around the world.
People are now really getting into what New Jack Swing really meant and means. It means people wanting to live nice, it's not being affluent to be distant or condescending, but to want nice things. They want their kids to have nice things. And they want to listen to music that exemplifies the good life so to speak. So Arsenio was very reflective of that era. Definitely.
Editor's Note: This interview took place in February 2006. Since then, we've lost a number of figures in the story of New Jack Swing, including Johnny Kemp, Heavy D, and Andre Harrell. May they rest in peace.

Back to Home