1991's "I Like The Way (The Kissing Game)" by Hi-Five commences with a gentle "boom" and is followed by four claps beautifully adorned with melodic (and peacefully deliberate) percussive elements. Next up, a number of crystalline, angelic sounding voices briefly cry out, "I," as the breezy tune confidently lifts off the ground. While gifted lead singer Tony Thompson riffs over the intro, the angel voices proceed to tickle the music with a blissful "oooh" (in step with the melody), and various in-and-out flashes of "I like…" and "the way…" ensue. As the track warms up, Thompson continues to pleasure the listener with his smooth-as-butter delivery, and soon enough, "I Like The Way" achieves its cruising altitude without a hitch. As the laid-back midtempo runs its course, the angel voices appear in generous portions, delivering the song's unforgettable hook: "I liiiiike, the waaaay", and every memorable second of its shimmering background vocals.
One of the 'angel voices' belonged to Ms. Mary Brown, a vocalist affiliated with Teddy Riley through G.R. Productions, an all-star collective of young musical talent assembled from in and around the cities of New York and New Jersey circa 1987. By the spring of 1991 (when "I Like The Way" was released), G.R. Productions was disbanded, and Riley (the collective's creative leader), invited a select group of former G.R. members to his new establishment, NJS Productions. Included in that number was Mr. Bernard Belle – the second 'angel voice' from "I Like The Way," who also co-wrote and co-produced the song with Riley.
Editor's Note: A third individual, renowned studio engineer Dave Way also co-wrote "I Like The Way" with Teddy Riley and Bernard Belle.
In early 2003, Njs4ever.com enjoyed the wonderful fortune of being graciously granted an interview with New Jack pioneer, Bernard Belle. Mr. Belle is not only responsible for Hi-Five's "I Like The Way," but he also co-wrote, co-produced (and furnished virtually all background and chorus vocals on) "Let's Chill" by Guy, and co-wrote Michael Jackson's "Remember The Time" with Teddy Riley and Mr. Jackson himself. Prior to those major accomplishments, Bernard Belle (as a member of G.R. Productions) was Guy's musical director on tour. Mr. Belle also contributed his musicianship and vocals to virtually everything Teddy Riley touched between 1987 and 1992, including Bobby Brown's signature super-hit (the second biggest single of 1989 according to Billboard Magazine), "My Prerogative."
Put concisely, Bernard Belle is a key member of the largely uncelebrated cadre of talent that worked very closely with Teddy Riley during most of New Jack Swing era. Incidentally, Bernard Belle is the younger sibling of classic R&B artist Regina Belle, perhaps best known (among general audiences) for 1989's "Baby Come To Me," and 1992's duet with Peabo Bryson, "A Whole New World" from Disney's Aladdin soundtrack. Mr. Belle first linked up with G.R. Productions circa 1986, while he was music director for his sister's North American tour. Among the original crew that he joined at G.R Productions were Gene Griffin (the business head of the collective), Timmy Gatling (Damion Hall's predecessor as third member of Guy), Big Bub (lead singer of Today), RedHead Kingpin, Zan The Man, and Aaron Hall.
It is utterly crucial for serious New Jack Swing enthusiasts of all ages to note that the aforementioned individuals (and others like Al B. Sure, Kyle West, DJ Eddie F, and more) assisted Teddy Riley at various points, and in various capacities to create and perfect the "New Jack" sound. Bernard Belle's particular specialty in producing the hits with Teddy Riley was his infusion of hauntingly warm, colorful, and fluid melodies. An excellent example of B. Belle's vocals can be heard on Guy's "The Future" (on the hook), and most definitely throughout one of the greatest love ballads of all time, "Let's Chill."
Njs4ever: When you were working in the studio on the Don't Be Cruel album, did you ever think that "My Prerogative" was going to be as big as it was?
B. Belle: Well honestly, everything we set out to do, we set out to make successful.
Njs4ever: Could you describe what it was like working with Bobby Brown?
B. Belle: Bobby Brown was a ball of energy, and Bobby was never tired. Bobby and I clicked. In the studio, if you told him to do something and it didn't come out right, he'd be willing to do it over, and over, and over again. He was going to do whatever it took to get the project done when he was in the studio while we were recording for the Don't Be Cruel album. That's the best way to describe Bobby back then – he was hungry.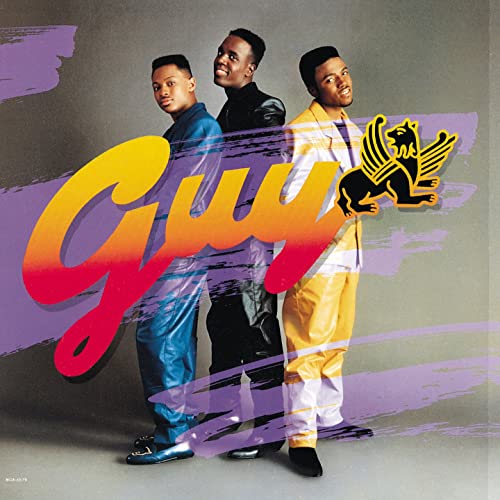 Njs4ever: For people just discovering New Jack Swing music, what albums or songs would you recommend they check out?
B. Belle: Certainly Keith Sweat's first album, and definitely Guy's first album, which is the landmark recording for New Jack Swing. If you looked up "new jack swing" in the dictionary, it should have a picture of Guy's first album because I think that is the perfect representation of what New Jack Swing is. That album was so special, we toured for two years between '88 and '90 off of just that one album.
Njs4ever: Would you say there were other people who were able to emulate NJS based on your source material?
B. Belle: To be honest, everyone else who did New Jack Swing – in my opinion – was like a strong Pepsi with a bunch of ice that sat on the counter while the ice weakened the Pepsi. If we weren't doing it, it just wasn't as hard, and it just wasn't as gritty. You could always tell one of Teddy's productions – if Teddy did it, you would know. And I think one of the closest producers that can come to that today is Timbaland. You definitely know a Timbaland track when you hear it. You also know a Neptunes track when you hear it, because they have a sound. And even though others can probably emulate guys like Timbaland and the Neptunes, those guys have a distinct feel, and you'll always know when it's them.
Njs4ever: Interestingly enough, the Neptunes are Teddy Riley protégés…
B. Belle: Exactly. A huge chunk of the things going on in the music world today are an extension of New Jack Swing. If everybody who was signed to Teddy was still signed to Teddy he'd have Rodney Jerkins, he'd have the Neptunes, he'd have Keith Sweat…and Teddy definitely has a lot of "grandbabies" so to speak in the music industry right now.
Njs4ever: Speaking of today's music industry, which artists do you listen to now?
B. Belle: I prefer real melodies. I love live drums, live guitars, and things that aren't sequenced. I basically appreciate music that requires creativity. While I do I think that sampling is an art form, it lacks a certain creativity that musicians had in the 60s, the 70s, and even the 80s. I would prefer to listen to something built from scratch. For that reason, I'm a big fan of the Jill Scott; you can put on one of her albums, and just let it play all the way through. The same goes for D'Angelo's first album, which is a huge favorite of mine. I also like Raphael Saadiq, who we came up together with. When I was the musical director for Guy, Tony Toni Tone was one of the bands that opened up for us. And every night on the left side of the stage, we'd watch them while they performed; they were such a hot band. And when we were on, the Tonies would reciprocate, watching us from the left side of the stage. We just sincerely appreciated each other's musicality.
Njs4ever: Are there any songs that you worked on that you are particularly fond of?
B. Belle: Believe it or not, "Let's Chill" was kind of special because it wasn't really written for Guy. We were working on music for the movie, New Jack City. In the film, there's a wedding scene where Keith Sweat has a singing cameo. Teddy and I sat down and wrote this "street" wedding song, and named it "Let's Chill." We were in the studio doing the song with Keith originally, and I sang the demo. Then Keith went in to sing the song, but Teddy wasn't really happy with the way it was coming off. Finally, both Keith and Teddy mutually agreed that it wasn't working it out, so Keith went on to write "There You Go Telling Me No Again," and we went on to write the title track for the movie. Then we kept "Let's Chill" for the Guy album.
Njs4ever: Any others?
B. Belle: The entire first Guy album was special. Also albums by Glenn Jones, and an album by a group named Abstrac'. The Winans record, "It's Time" was great for us too. Marvin killed the track. Something I'd like to say is that Marvin Winans and Glenn Jones are among the greatest vocalists I've ever worked with, but they are both very underrated. Marvin and Glenn were so quick in the studio. Teddy's patience level is very, very short, and some say my patience is short, but mine is a lot longer than Teddy's. But these guys were very fast: they could go to the studio, know the songs, and knock 'em out. It's rare in today's music industry where a singer can go in from the intro all the way through the vamp without stopping. I would also add [Regina Belle] to that list: phenomenally talented, but seriously underrated.
Njs4ever: Could you share with us what it was like to work with Michael Jackson?
B. Belle: Absolutely. It was, as you can imagine, an amazing experience. Somewhere around early 1991 was when we started with MJ. Mike had rented out the whole studio – this was Larrabee in North Hollywood. It had four studios in there. The smallest one he had turned into a listening office where after he recorded, he could listen. He had the whole room transformed into a more cozy kind of place. He had statues put in, and pictures put in, and these great big loudspeakers.
I walked into the listening office thinking it was empty, and there he was, sitting while talking on the phone. I couldn't believe it. I apologized and I walked back out. But he came out and introduced himself. I introduced myself, and then he said he was a big fan of my work and I couldn't believe it. I was floored, and I wanted to pass out. I was actually shaking this guy's hand, and I'd literally grown up listening to his music! It took about ten days for me to adjust to being with him every day. But he made us feel so comfortable. He wanted to take that whole "icon" thing away. He just wanted to be Mike in the studio, and that's what he was. We ate together, we talked, we laughed, we had a ball, and it was great.
Njs4ever: Mr. Belle, thank you so much for your time with us. Is there anything else you would like to share?
B. Belle: I'm a music historian myself, actually. When I listen to the older Motown records, I want to know who the musicians were, who the drummer was, and who the background singers were. For example, the Funk Brothers, who played on most of the Motown records we're familiar with, are now finally getting their recognition and I dig that. Somebody out there realized that these guys played on so many hits and were not given the credit they deserved.
Usually, there are more people behind a hit than one would think. Maybe the producer or the artist will get a lot of the shine at the Grammy Awards or something when their name is announced, and the artist will go up and thank God and everybody else, but then won't thank the writer, or the musicians. Personally, I enjoy seeing the writers, the musicians, and the background singers behind a project get the recognition they truly deserve; it needs to happen more often, because it doesn't happen enough."

Back To Home