Susan Weems is formerly of R&B vocal group Sugah. Sugah were famously discovered and signed by DeVante Swing of Jodeci to DeVante's own label, Swing Mob Records. Composed of Susan Weems, best known as Susie (at right), Rolita White (middle) & Charlene Keys (best known as R&B soloist Tweet, at left), the trio formed after auditioning for DeVante Swing over a 2-year period, between 1992 and 1994. Susan & Rolita both signed to DeVante in 1992, followed by Tweet in 1994.
Through affiliation with Swing Mob, Susie was also one of the key members of Da Bassment, the one and only collective DeVante started in 1991, and the very same outfit that was responsible for launching many talented artists and producers, some of whom are still heavy hitters in the industry today. Sugah made a cameo appearance alongside most of the other artists from Da Bassment in DeVante's remix video of his single "Gin and Juice," from the Dangerous Minds Soundtrack. Despite the fact the trio recorded a lot of songs in their time with DeVante, they never managed to have any material released. Susie and her group remained with DeVante until 2000, before eventually parting ways from each other and him.
Before I lead on to the interview, I want to thank Susie for giving me close to five hours of her time to do a number of interviews, and painting such a clear picture of life in Da Bassment and her time with DeVante. After hearing some of her work, I can only concur that despite not ever having any material officially released, she certainly lives up to expectations, confirming why DeVante included her on his roster of artists at such a young age to begin with. Besides her talents as a singer/song-writer, she was incredibly down-to-earth, sweet and a great pleasure to talk to throughout all the interviews – should this article be a success amongst fans and industry executives, I'd like to take the opportunity to say it would be due to her only. She not only gave such an in-depth account of her experiences as one of the key members of the collective, but also a true reflection of what may have caused a break-up between the various members, that has been so unfairly represented in the media to date.
I hope this article clears up a number of misconceptions and re-ignites some much-needed thought on the undeniable fact of what the Da Bassment collective could have been capable of as individual members of the crew and as a group, should they have been unleashed into the industry as planned. Needless to say, it is unfortunate their fans didn't get a chance to see them in the limelight that they all so deserved.
This interview is a dedication to a journey that begun at the start of the '90s which was never completed- one that encompassed talented singers, song-writers, producers and rappers and the great leader behind it all- an incredibly talented man who is still appreciated and very much missed musically today- the legend that is DeVante Swing.

Rashmi Susannah Vasanthakumar
NJS4E: Take me back to the beginning. How did your career start before you became a part of Sugah and how did you end up meeting DeVante Swing?
As soon as I got out of high school around 1990, I started singing in a local singing group. We used to work in this studio with this guy called Bobby (our producer at the time) and he kinda was our acting-manager at the time. On one occasion, this guy called Tony who was looking after some other artists happened to use the same studio as us and heard us sing. He liked what he heard and wanted to manage us full-time, which we agreed to. I think around 1992, Tony had heard Jodeci were performing in Chicago and that DeVante was looking for groups. So they drove us down to Chicago, seeing as we were a vocal group lookin' for a big break. The whole group (five at the time) couldn't make it so only three of us (including me) went to the concert. That was the show Jodeci were doing with Father MC.
It was actually Puffy that took us to meet Jodeci in the first place. At that time he was working for Uptown Records and 'cause he was working for Father MC, he was the one that actually led us backstage to meet Jodeci. Long story short, we auditioned for DeVante with some of our own tracks and he was impressed-even though he didn't like the whole group (he only liked two of us). And from that point on he kept in touch with us. Tony & Bobby backed off as soon as DeVante started getting involved with us, mainly because DeVante was going to produce us, as that's what he was interested in doing-not just manage us and it was DeVante after all! And that's how it all started.
NJS4E: So what happened after that?
He ended up coming to Cleveland and telling my parents he wanted to put me in a group. After that was when we got on a plane and ended up moving to DeVante's house in Teaneck- that's where we met Rolita. At the time, Ginuwine, Sista, and Static were already there. The rest came afterwards, between 1993-1994. Missy was friends with Timbaland & Magoo and brought them to DeVante's place and that's how we met them and the others. In fact the only people that didn't meet through DeVante was Timbaland & Missy. After some time, all of us moved to Rochester in Fall 1994.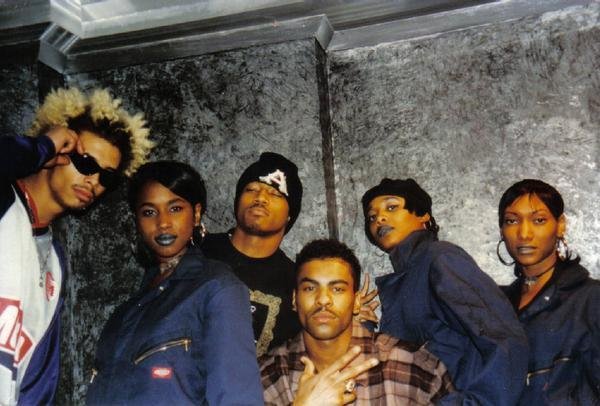 NJS4E: That must have been a massive move for you – especially to get signed by the man behind one of the biggest R&B groups of that time?
Oh yeah, it was! 'Cause we were Jodeci fans and diehard Jodeci fans!!! So for that to happen was really exciting at the time. It was like a dream come true being chosen by DeVante like that. And in time, being around Jodeci became more than just excitement because we loved their music or because they were famous. I mean, it became a lot more than that. They were like our brothers. We were like family and they were protective and took care of us. So there was a lot of love there. So yeah, thinkin' back it was an awesome feeling.
NJS4E: Did you already have the name of the band "Sugah" prior to your signing to DeVante?
No. Actually that was really DeVante. He pretty much gave us our name and came up with it. The naming of the band came after he had taken me from Cleveland back to his house in Teaneck, New Jersey, when Rolita was there too. I remember we all discussed a name and then he came up with it. I think because we were all sweet, innocent and young women, Sugah just seemed appropriate to him!
NJS4E: So had Rolita been selected for Sugah before you got to the house?
When we arrived at his house, she was already there. I don't know if DeVante had found her before thinking of putting the group together or whether she was always going to be part of the group. When we arrived at his house though, she was there. He had flown her in before we had flown in. And all three of us ended up auditioning to each other!
NJS4E: And how about Tweet?
Tweet joined our group once we all moved to Rochester (which is where Jodeci were recording The Show The After Party, The Hotel at the time). DeVante had all the groups together there. That's really when ALL of us were living together: my group, Playa, Timbaland, Magoo, Sista, Ginuwine, Stevie J, and loads of other local artists from Rochester. Actually what happened was one of the original Sugah girls, Monique, decided to leave the group so that was when auditions were held to fill the space, which Tweet eventually filled. DeVante had sent us home when the auditions were going on, but everyone kept saying "Y'all have to meet Tweet, Y'all gotta meet Tweet. She's perfect for the group!" So when Rolita and I finally did meet Tweet, we just felt it was a perfect match. In effect, we hand-picked her outta the crowd. She was special.
NJS4E: So talk to me about what it was like being around DeVante & Jodeci?
Working with DeVante at the beginning was kinda intimidating because he was such a musical genius. I mean, it was unbelievable that we were chosen to be part of Da Bassment in the first place, but to be associated with him so closely like that was kinda scary – because we knew what he was capable of, so knowing all that and working with him, we always felt like we needed to be really amazing, just because he was. And you know it's JODECI! One minute we're hearing them on the radio and watching them on TV, and the next we're living with them and working with them! We were right there watching them do the Diary of a Mad Band and The Show, The After Party, The Hotel albums, and so we had so much exposure to DeVante as a producer and to Jodeci throughout the time they were creating all of that.
I can't say anything other than the fact that being around and witnessing that was truly incredible. I mean DeVante was super-talented anyway but Jodeci as a whole were just this super-talented self-contained band. They were a REAL band. They each had some amazing talent and DeVante was the genius who could do anything and everything with them. Watching DeVante, Dalvin, K-Ci, and Jo-Jo in the studio was just so inspiring to all of us. Each of them were so great in terms of their own individual talents but put it together and they were this huge force to be reckoned with. They were just this super-talented super-successful family! They worked hard and they worked fast – the results were always just super-hot. You just had to step up your game you know? You felt you had to because you were around some crazy talent and we always wanted to impress them and show them that we could achieve what they had done. It didn't matter that Sugah were a female group or Playa were a trio that weren't supposed to be the next Jodeci- we all just wanted to produce creative work and be as successful as Jodeci.
NJS4E: How about the other producers in Da Bassment?
Right at the beginning, DeVante started us out working with other producers before we worked with him. My group did a lot with Darryl Pearson before we actually did anything with DeVante, 'cause he wanted Darryl to get comfortable and get used to recording and being in the studio. Plus DeVante was real busy with Jodeci during that period- TV, interviews, shows and creating the Jodeci album, so he wasn't around as much then. So I'd say Darryl mainly at the beginning. DeVante got us prepared by getting us working with other producers like him, so we'd be ready and at our best when it was time to work with him.
Then of course there's Timbaland, Smokey (Playa) and Dalvin all of whom we also worked with prior to working with DeVante. We worked with Dalvin a few times actually- he's also incredibly talented. Working with those sorts of people was our life- the experience was just so amazing. It was a steep learning curve but the knowledge and skills we gained as artists because of that is just incomparable to anything I've ever experienced.
NJS4E: I find it amazing to hear about Darryl Pearson starting out, because he himself has produced a lot of great work since those days including Mya's first album which was predominantly produced by him. He's another incredibly talented individual who was part of Da Bassment. And again Stevie J, who's racked up an impressive back catalogue of production work including Mariah Carey, SWV, 112, Jay-Z and various Bad Boy artists. And then of course there's Timbaland & Missy. It must be even more amazing for you thinking back.
Yeah. They're all very very talented. When we came on board Darryl was already there and part of Da Bassment. From what I remember Darryl played in Jodeci's band- Swing Mob, prior to Da Bassment. Stevie J wasn't part of Da Bassment as such, because he was Dalvin & K-Ci's artist on Clownin' Records, but he might as well have been. He was always around and he was a hot producer too. They both were young and upcoming musicians who played instruments and were great at producing.
Timbaland & Missy worked together closely a lot and they were very talented too. People see it as a recent thing like in the last decade, but they were like that in Da Bassment. They were always this duo who had their own style. In Da Bassment, all the producers did.
Of course, seeing where they all are today, it is amazing. It's not surprising though!
NJS4E: Can you describe what it was like being a part of Da Bassment? A day in your life back then?
Being a part of Da Bassment was like being in music college. It was hard work and we had to sacrifice a lot – not seeing our families and even an unhealthy lifestyle in order to make the music thing come true, but we learned a lot – not only from DeVante but from each other too. We just vibed off each other and that really was our life- working hard and vibing! The struggles to maintain it might have been difficult, but we were all so focused on the end results that, that became a natural part of life that didn't matter because of what it was we were doing day to day. And that day to day experience was what was amazing.
There was just so much talent around- people like Darryl Pearson, Chad ("Dr. Suess") Elliott, Stevie J, Timbaland, Missy, Ginuwine and then you got the other groups like us and Playa as well as the other Rochester artists. We were all in it together and we were a family – DeVante & Jodeci were like our brothers and all of us together just vibed! Everyone was very talented so the scope of what each of us could learn from each other was huge. DeVante handpicked all of us and he knew what he was doing when he put everyone together like that. He knew it would work and he knew he could work with each and every one of us coz we all had something he liked that he could groom further – people that could be developed to be exactly the kind of group he wanted to create.
You know Puffy's Making the Band? Well that's exactly what we were but on a more advanced scale and way before Puffy did it.